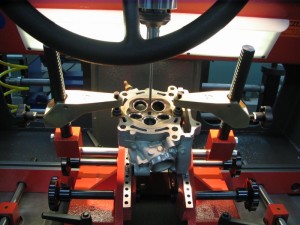 In our electrical shop many starter and alternators, domestic and import including  heavy duty diesel units can be rebuilt, in most cases  far below the replacement remanufactures cost.  We feel that these custom rebuilt units with our attention to detail are of better quality then most.  Our 25 years experience assures this.  So whether you have a 1930's vintage tractor or an over the road tractor trailer , give us a call we can do the job. 
Our experience can help you with applications from starter/alternator and generators to engine component choices.
We are now specializing in ATV and Moto Cross performance engines. We're offering complete cylinder head rebuilding, porting, balancing, cylinder sleeving, and big bore kits for all popular models of ATV's and dirtbikes.
Complete Engines
Engine Packages
Rebuilt Cylinder Heads
Performance Cylinder Heads
Crankshaft Grinding
Camshaft Grinding
Cylinder Boring
Align Honing
Block Decking
Cylinder Sleeving
Connecting Rod Re-Sizing
Valve Jobs
Valve Guide Replacement
Hard Seat Installation
Engine Balancing

Starter & Alternator Rebuilding for All Types of Foreign and Domestic Vehicles
Computerized Super Flow Dyno Service
Super Flow Testing
Parts Cleaning
MagnaFluxing
Head Porting
Shot Peening
Glass Beading
Vacuum Testing
Manifold Surfacing
 Flywheel Resurfacing
Motorcycle, Watercraft, ATV Machine Work
Small Engine Machine Work